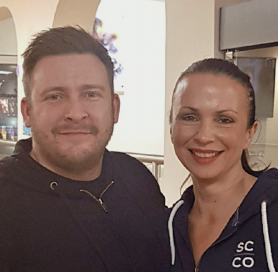 Howdy,
I write fitness articles for several business magazines now. My job there is to help people realise the value of being fit for their businesses and encourage them to take action – much the same as it is in these emails.
I was just reading the front cover of this months edition of one of those magazines as it discussed…me.
Before we go on, let me just say I was not reading it to be vain or to feed my ego – that's at a fairly healthy size as it is… 😉
Instead, I wanted to see how my client Vicki felt about spending some time with me 1 on 1 in the gym, before Xmas. It was the first time we had done so and I was interested to read her thoughts on the experience.
Most of it was as expected: It was helpful and inspiring for her but something she said took me by surprise. Vicki wrote:
"I was inspired by my day with Phil – not just because he corrected my technique and got me lifting 30% more than my previous personal best, but because he was doing things differently to other people."
Before I read on, I found myself thinking back to my day with her, wondering what it was I'd done that was so different?
Did I explain things better? Was I more motivating than others? Was I more of a "cunt" than people say?
Nope, she said:
"In his bag, he carried his pre-planned food for the day, carefully measured and ready to eat. He could have just grabbed a sandwich in the gym café, but he was on a dieting cycle at the time because he was slightly over his desired weight, and it was more important to him to eat the right food than do what everyone else did"
I did have some food prepared –
2 protein shakes 3 servings of cashew nuts 1 serving of fajita chicken
Essentially, 3 meals. Just in case we were there longer than planned – we were – we met at 10am and left at something crazy like 8pm!
What was interesting was out of everything we did that day, that part really inspired her. Something, that wasn't even a formal part of our day together left a pretty lasting impression.
Crucially, she hit the nail on the head when she went on to write:
"Part of success involves modelling the good habits of successful people, and I won't forget that simple lesson Phil taught me (probably without even realising it)"
To be honest, she's right. I didn't realise it and it's made me sit back of think about that concept for myself. I've created habits that increase my chances of success with my fitness and training over the past 18 years – that's a long fucking time – and therefore it means it comes easily to me.
I don't think about preparing food the night before I go out as anything "special".
It's a part of my life, like brushing my teeth.
But, I do still lack some of those habits within my business and Vick's article has made me stop today and realise I need to look at more people who are doing what I want to be doing, steal their habits and work at making them my own.
You are probably like my client.
You haven't quite got into the habit of "being fit" just yet. You definitely won't have if you only started a few days ago, that's for sure.
It takes time to create those habits.
And in that "time" you'll most likely fail a few times. That's a given.
But if you keep on working on them, it won't be long until you just 'do' them, the same way that I do, and at that point it all becomes a lot easier to manage.
In the beginning, it's hard.
In fact, it can be exhausting.
Constantly thinking about what to eat, when to eat it, how much to eat…
Saying "no" to offers of treats, battling the voice in your head telling you to 'miss the gym' or to buy the pizza you've been craving.
Ugh.
That part isn't fun and quite honestly, it's the most difficult part of transforming your life, and in turn, your health, fitness and how good you look naked.
(Yes, we all wanna look good naked. Don't pretend you don't!)
Model your behaviour on those who are successful and in a similar situation to you.
Examples:
My client, Tim, ensures he walks at least 15,000 steps per day.
Jon, prioritises his exercises in his diary, before anything else, to ensure he's always got the time for it.
Ray, over Christmas, didn't want to deal with people asking him why he "wasn't drinking" so after having 1-2 drinks he began "faking it" with small glasses of coke… no one knows there isn't rum in there <—–probably my favourite one I've heard!
Most of my clients prepare several days worth of meals in advance, so at any time they can chuck a few in their bag and hit the road.
These are all strategies for getting results…
It took them of all time to create and implement them consistency.
And yes, some will seem like a bit of a ballache, admittedly, but if you do these things consistently, they'll become new habits.
At the end of the day – do you want results or not?
If you answered 'yes' to that, then taking a bag of prepared food with you is worth it, right?
Phil
PS- You have about 6 days until the early-bird offer (£125 a seat instead of £250) ends…
I'm not big on the 'hard sell'.
But I will say that's a bargain when you consider how much your life will change after it (should you actually do the work).
If you want to take one of the limited spaces then click the link, check out a bit more on the next page, and then click the button to be redirected to Paypal.
Simples
PPS- Those who take the early bird option will also get 2 weeks worth of personal, 1-2-1 coaching (too ensure you do what you've been told to do).
The value of that is £1000…
Not bad for £125, right?